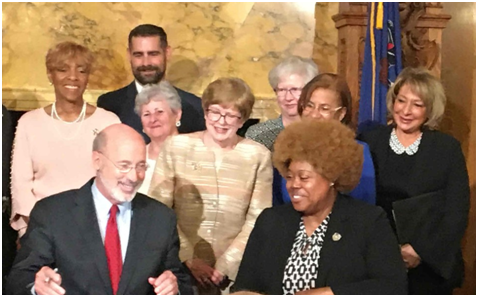 Recently, Governor Tom Wolf took action on pay equity by signing an executive order that ends the practice of state agencies requiring a job applicant to provide their salary history during the hiring process. The governor also called on the General Assembly to pass similar protections for all working women in Pennsylvania. When employers ask job candidates about their previous wages and use that information to set pay in a new job, this seemingly innocuous practice can have major repercussions. Salaries should be based on job responsibilities, position, pay range and the applicant's job knowledge and skills.
It was a great honor for AAUW-PA to be in attendance and have Barbara Price, our Public Policy Co-Chair speak. AAUW-PA was the only outside organization asked to speak. Other speakers besides the Governor were Representatives Maria Donatucci and Brian Sims and Senators Tina Tartaglione and Judy Schwank and Melissa Robbins who shared her story of unequal pay as she did at our Equal Pay Rally in April. The whole ceremony was amazing. Here is a link to the whole ceremony.. Fast forward to 19:53 to see our Pay Equity Super Hero. Her remarks are awesome! (according to Ann Pehle).
---
1. Kansas City/ Missouri Work Smart
The American Association of University Women (AAUW), the Women's Foundation, and Kansas City's Mayor Sly James launched the first phase of an initiative to empower 1 million women to successfully negotiate salary and benefits and close the gender pay gap in both Kansas and Missouri. The initiative will begin in Kansas City, where the overall gender pay ratio for the Kansas City metro area is 78 percent (a 22 percent gap).
2. Apply for AAUW's Fellowships and Grants Today!
Fellowship and grant recipients perform research in a wide range of disciplines and work to improve their schools and communities. Their intellect, dedication, imagination, and effort promise to forge new paths in scholarship, improve the quality of life for all, and tackle the educational and social barriers facing women worldwide. AAUW seeks a diverse applicant pool.
Read More (NOTE: The 2018 application period closes between November 1 and December 1 this year dependent upon program. Be sure to check each individual fellowship or grant program for complete availability and deadline information.)
3. Career Development Grants
Career Development Grants provide funding to women who hold a bachelor's degree and are preparing to advance or change careers or reenter the workforce. Primary consideration is given to women of color and women pursuing their first advanced degree or credentials in nontraditional fields.
4. Strategic Plan
The AAUW Strategic Plan is created through an inclusive process involving the AAUW Board of Directors and staff. The goals, indicators of success, and strategies reflect an integrated approach to fulfilling our mission, vision, and value promise. As AAUW continues to move forward in a changing world, so have our Strategic Plan and our Vision Statement.